Here is my very own pair of Sergio Valente jeans featuring the first portion of Pride and Prejudice by Jane Austen along with her silhouette.
If you are terribly fond of them contact me to make a pair for you or some other piece of literary clothing.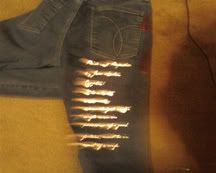 Recently finished:
Lolita
Nabakov
Grossly different from the movie (or at least what I remember). The movie is incredibly tame and fails to show you the full weight of Humbert Humbert and Lolitas situation.

The Bell Jar

Plath
Some of you sadly only know this as the book read by sister Kat in 10 Things I hate about you (if this is the case shame on you go read taming of the shrew!!!).
I was truly blown away by this book. At the start I was unaware that this is only semi autobiographic.
Definitely a new favourite for me.
Napoleon Bonaparte
Kenneth Allan