Lesley Dill has created a dress that in a word (or many) is nearly perfect for bibliophiles and art lovers - the Dada Poem Wedding Dress.
The dress is covered in words varying in size, boldness, and typeface. Sadly this is a dress you aren't physically able to wear but it sure gives me some ideas.
For more of Lesley Dills work you can follow this link http://www.artnet.com/artist/5267/lesley-dill.html
In doing my own wedding planning a few years back I ran across this delightful idea for a wedding cake.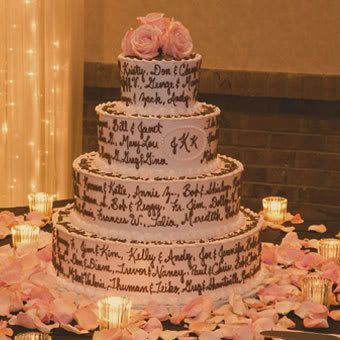 The cake is covered in the names of all of the guests in attendance.
This lead me to wonder about book cakes. It seems that a cake made like a Bible is not an uncommon party favor for christening parties.
This could be considered a much more socially acceptable form of bibliophagy.