COURTNEY LOVE
Her book club: Blonde Ambition
What she's reading: Trading Up by Sex and the City author Candace Bushnell
Category: Beach read
A selected passage: "He might not have been the man that Janey had always imagined she would marry, but the man you did marry never was."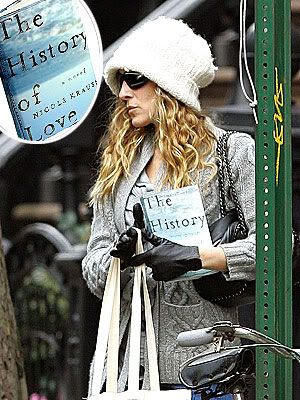 SARAH JESSICA PARKER
Her book club: Literature and the City
What she's reading: The History of Love by Nicole Krauss
Category: Literary fiction
A selected passage: "I try to make a point of being seen. Sometimes when I'm out, I'll buy a juice even though I'm not thirsty."
Source
Mischa Barton

- The Kite Runner
Madonna

- The Night Listener
Lindsay Lohan

- God's Promises for Your Every Need
Paris Hilton

- The Power of Now
Angelina Jolie

- Crimes of War
And on that note
here
is a sort of whose who of who reads what.