Public Library for UO Darfur Heart Tee from
Urban Outfitters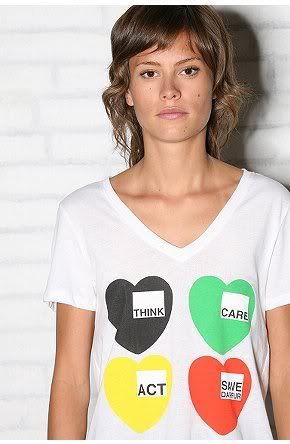 Designed exclusively for Urban Outfitters by Public Library, the graphic on this t-shirt is hoped to raise awareness of the crisis in the Darfur region of Sudan. In washed-soft and faded jersey; Cut with a v-neck and finished with a graphic message at the front. $5 from the purchase of every tee goes to savedarfur.org. Exclusive to Urban Outfitters. Made in the USA. Machine wash.
$28
When searching the word "library" on urban outfitters website five items will come up.None of them are to my particular taste but I felt that it was worth the mention.
For those of you out there who have a drawer full of old glasses you may consider donating them to the
Give the Gift of Sight Foundation
. Your old glasses will go to those who need them in developing countries.