The computer may nearly be fixed. There are still some things to work on but I wanted to check back in on you dear readers.
In an earlier post I mentioned Penguins deck chairs. It would seem they are offering their own moleskin-esque notebooks with favourite titles on them.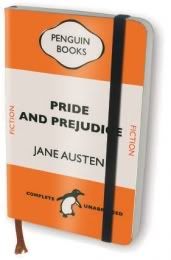 Aside from you and I here is who else has just got to have it:
Source
Recently Finished:
The Magicians Nephew
The Lion, the Witch, and the Wardrobe
C.S. Lewis
Poems
Sylvia Plath
Eclipse
Stephenie Meyers
What Would Audrey Do?
Pamela Clarke Keogh
Don't Be That Girl
Travis Stork
Unfortunate English
William Brohaugh
The Gilded Tongue
Rod Evans
Lost in Austen
Emma Campell Webster
Eat This, Not That
David Zinczenko

Where the Wild Things Are
Maurice Sendack