Earlier I made mention of the Biederlack blankets. I made an attempt to make one mine and it seems that the company has either not made very many or has sold too many. It seems no longer worth the effort unless you want a blanket with Louisa May Alcott.
I say all that to make mention my idea. A blanket for the bibliophile. At
custom creations
you can arrange to have your own photo blanket made for one of the best prices available online with whatever you desire. I chose to have a photo montage of nine book titles.
Once you order you provide the company with the pictures you would like to appear and can even tell them in which order you'd prefer they be arranged and then you will be sent a proof to get your own personal thumbs up on the project.
Here was mine (arriving within the hour of ordering)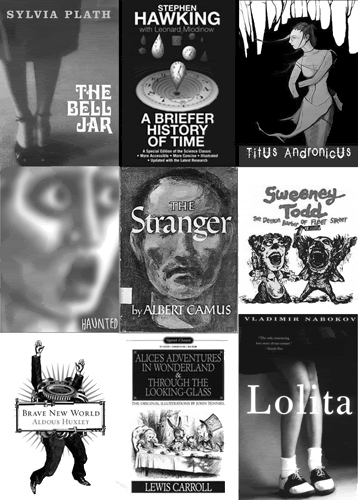 Initially my plan had been to go with one of the fleece versions. But then I noticed an all important phrase: "However, it is not a thick snuggly blanket like out Knitted and Woven Photo Blankets are." Needless to say I got the knitted and I must say I could not be more pleased.
Production of your blanket will begin very shortly after your go ahead after viewing the proof. It will take around 5 - 7 days and then your blanket will be shipped UPS. Be home at the time of your delivery because you will need to sign for this beauty - don't want the neighbors making off with your new trophy piece.
Recently finished:
The Science of Superheros
Lois H. Gresh and Robert Weinberg
Decartes in 90 Minutes
Paul Strathern
I would most assuredly recommend this to a newcomer to the world of philosophy. But buyer beware - this is an amuse bouche. Be prepared to still be hungry after this read.
The Physics of Christmas
Roger Highfield
I expected this to be more about the physics of how Santa delivers presents all around the world in one night - and this is in fact covered. But the majority of the book covers anthropological facets of Christmas and basic physics as a building block to this explanation. Very enjoyable read.
Emma 1
Emma 2
Emma 3
Kaoru Mori
Comic series written by a Japanese Anglophile set in Victorian England. The story of a maid and an aristocrats forbidden desire to be together.
Step One: Teach Yourself Violin
This set comes with a small booklet, a three-cd set and one dvd. None of them seemed worth owning.
Perhaps this would be of some use to a small child who is beginning to play and had has a few lessons. But if you are truly teaching yourself to play violin, on your own - this is not the best place to begin.
The booklet does contain morsels of good information. But if you do not, say, know which strings are which - then you really learn that much less from this set.
The cds contain no instruction. They are tracks of the songs in the booklet played at a slow pace and then a medium pace. There are also tracks to play along with. I am not sure how you are intended to play along if you still are uncertain of how to make the correct sounds come from that beautiful instrument known as a violin.